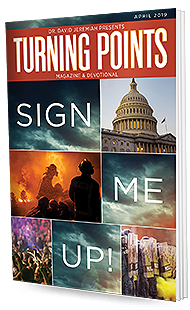 Online articles:
From this month's issue


Read online
PROBLEMS: A Sign of the Times
Ancient sailors may have been the first to make the connection: If the sky is red at sunset, the next day will be fair; if the sky is red at dawn, better beware...
The Worst Day Ever…The Day After
By David Jeremiah...
One tick of the clock—a single fleeting second—cost Nicholas $27,000. It happened in Queensland, Australia, at the Gold Coast Marathon in 2011. Kenyan runner Nicholas Manza Kamakaya won
THIS MONTH'S MAGAZINE RESOURCE
The Book of Signs
Discover what Scripture reveals about the signs of the times and the signs of God's plan for the future.
Find Turning Point on television and radio
Enter either your area code, zip code, or city and state
Submit