Answers to Questions About Spiritual Warfare
If we fail to view daily spiritual challenges against the big picture of spiritual warfare, we can draw wrong conclusions and implement ineffective strategies to fighting spiritual warfare.
Everything in life can be viewed through a microscope or a telescope; we can take the short view or the long view. And both are important. In the spiritual life, we tend to focus on the more immediate perspective.
Answers to Questions About Spiritual Warfare
addresses both perspectives—Satan's strategies against the human race and the believer's strategies for defense and victory in spiritual battles. From his years of teaching on this subject, Pastor David Jeremiah has selected answers to every pertinent question concerning victory in the spiritual realm. The Bible says God will ultimately be victorious and win the spiritual war. But it also says He has given every Christian promises and power to win our daily spiritual battles.
Article: How to Arm Yourself with the Shield of Faith
PDF Download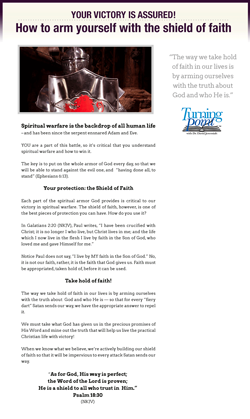 Download Now
Product Specifications
Product Code
QSWHBK
Number of Pages
186
Cover
Hardcover
Dimensions
4.25 x 6.25
Publisher
Turning Point
Copyright Date
2014
Features
86 questions and answers
Spiritual warfare scripture reference guide
Prayer scripture reference guide
The Warrior's Prayer
Easy-to-read format