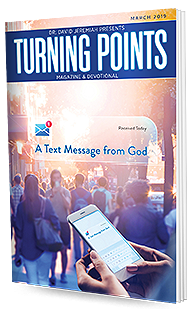 Online articles:
From this month's issue


Read online
Do Business Until I Come!
The Daily Mail recently ran the story of Sacha, a 21-year-old "rich kid" in West London, the daughter of a millionaire...
Always
By David Jeremiah...
Years ago, a young boy straps his knife (for cutting stuff) and .22 pistol (for snakes) to his belt, sticks a bottle of soda in his back pocket, hops on his bike (without a helmet) and pedals to a
THIS MONTH'S MAGAZINE RESOURCE
The Book of Signs
Discover what Scripture reveals about the signs of the times and the signs of God's plan for the future.
Find Turning Point on television and radio
Enter either your area code, zip code, or city and state
Submit