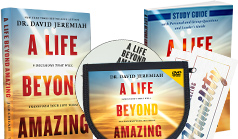 Request Your DVD

Study Set

With a $60 Gift
Request Your CD

Study Set

With a $60 Gift
Set includes A Life Beyond Amazing book, study guide, CD or DVD album, and A Life Beyond Amazing Scripture cards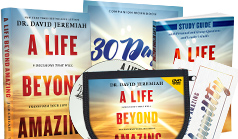 Request Your DVD

Workbook Bundle

With an $85 Gift
Request Your CD

Workbook Bundle

With an $85 Gift
Bundle includes A Life Beyond Amazing book, study guide, CD or DVD album, A Life Beyond Amazing Scripture cards PLUS the 30 Days to A Life Beyond Amazing workbook
In A Life Beyond Amazing, bestselling author Dr. David Jeremiah uncovers God's strategy for change and challenges you to make nine important decisions that will transform your heart, your life, and your world. Discover how to move past the discouraging headlines, the adversity in our personal lives, the toils of daily living, the limits of our day, and to reach out and grasp a life beyond honorable, beyond respectable, and beyond incredible.
Discover:
The key ingredient to a life beyond amazing
Why we have so much and still feel so unhappy
How to live in peace instead of just controlling our panic
What it takes to push beyond what you think is possible
How to demonstrate a love that actually changes the world
Why God's greatness should compel us to be more inclined to reckless generosity
How our character is the key to emotional and spiritual success
Why humble people are other-centered people and reflect the person of Christ
The "outlier" trait that explains why some Christians have the personal discipline to soar while others settle for mediocrity
God has given us all we need for godly character, but we must diligently build it by adding one virtue upon another in partnership with Him.
Are you ready to live the life God has for you?
When you give a gift of $85 or more...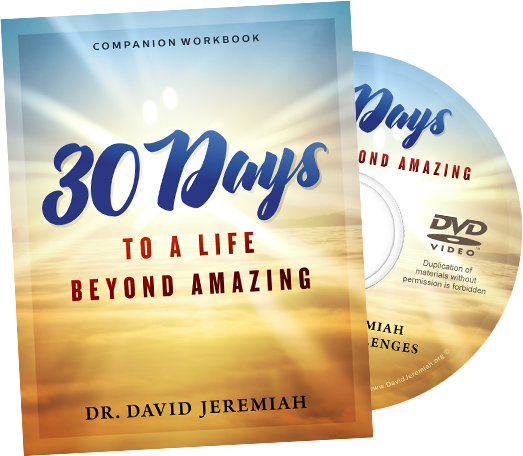 Jumpstart your journey to a life beyond amazing with this companion workbook. It is full of practical "how-to" steps for implementing the transformative concepts found in the book. Through penetrating personal questions, journaling prompts, and clear–cut plans of action, you'll spend three days contemplating and implementing each of the ten chapters in the book.
Day 1 : Illuminate
Dig deeper into the concepts you learned in the life-changing book to discover new layers of meaning.
Day 2: Internalize
Learn how applying these concepts to your own heart and life will transform you, inside and out.
Day 3: Impact
Spread the results of living the life beyond amazing to your friends, family, community, and world.
The God–inspired life isn't a pipe dream. It's how we were meant to live from the very beginning.
The only question is...what are you waiting for?
Included in the workbook
is a DVD with 10 video challenges from Dr. Jeremiah. Each challenge corresponds to a chapter in the workbook.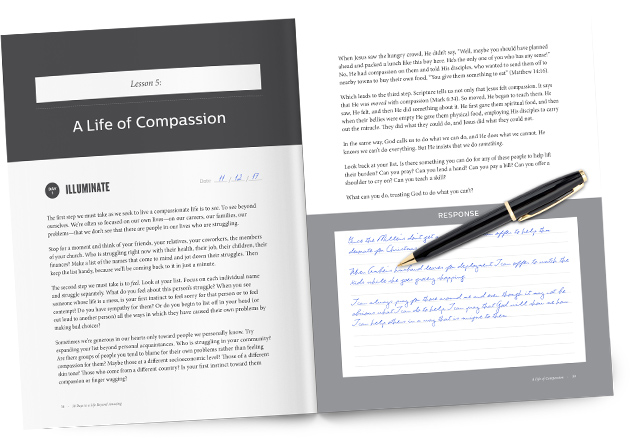 Receive the A Life Beyond Amazing workbook bundle including:
– A hardback copy of Dr. Jeremiah's transformational book, A Life Beyond Amazing
– The entire 12-part series on your choice of DVD or CD with "The Amazing Interview" bonus interview with Sheila Walsh
– A Life Beyond Amazing study guide
– A complete set of A Life Beyond Amazing Scripture cards
– PLUS the 30 Days to A Life Beyond Amazing workbook with 10 video challenges on DVD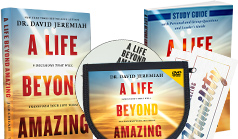 Request Your DVD

Study Set

With a $60 Gift
Request Your CD

Study Set

With a $60 Gift
Set includes A Life Beyond Amazing book, study guide, CD or DVD album, and A Life Beyond Amazing Scripture cards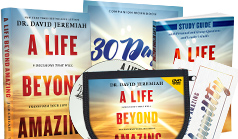 Request Your DVD

Workbook Bundle

With an $85 Gift
Request Your CD

Workbook Bundle

With an $85 Gift
Bundle includes A Life Beyond Amazing book, study guide, CD or DVD album, A Life Beyond Amazing Scripture cards PLUS the 30 Days to A Life Beyond Amazing workbook